There's a common misunderstanding between the definition of excuses and the definition of reasons. This is important because while a possible stumbling block may need to be expressed, responsible people want to avoid making excuses.
Someone who makes excuses is a person who drains the energy of others, usually falls short of their promises and is unpleasant to be around. So I completely understand when my coaching clients want to stay out of their story and avoid excuses while needing the truth to be told in order to explain something.
The need to explain and desire to avoid excuses can be a fierce inner battle that creates negative emotions regardless of the topic and whether it began negative or not.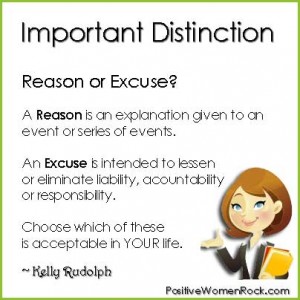 A responsible person has challenges just like an irresponsible person but there is a difference in how they look at it, how they handle it, think about it, feel about it and the ultimate outcome including the lesson they learn from it, which will be helpful later; something a person who makes excuses doesn't even acknowledge exists!
We might not get something accomplished and need to explain why. We can share the situation and what got in the way of completion of our intention.
Example of A Reason:
I won't be able to complete the blog post on the definition of excuses vs definition of reasons this morning because I have clients to coach today. I will complete it this afternoon.

This is truly a reason why something may not get done at the intended time. There is no sign of lack of responsibility. Even stating that you started later than expected is a reason, not an excuse. Sometimes illness is a reason – a valid reason if there truly is an illness.
A person of lower integrity may not accomplish something and they need to find a way to explain why not but don't want to take responsibility. They don't want to be accountable and even may have no intention of completing the task or project ever!
This person doesn't want to be liable for anything that happens as a result of their falling short of their agreement, obligation or promise. This is a self esteem issue as in lack of confidence they can accomplish what they said they would and playing of the victim card (poor me). This person makes up an excuse, which in their mind is a reason but there are challenges in the truth of their story as well as many ways they could have taken responsibility to make it work if that's what they really wanted.
Example of An Excuse:
I wasn't able to complete the blog post on the definition of excuses vs the definition of reasons because my friend called right in the middle and had to tell me something and one of my three computers was acting up and I needed to schedule a spa appointment to relieve all this stress of writing blog posts!
Clearly, with three computers, the ability to let a call go to voicemail, and many hours in a day to book a spa appointment, these were all excuses used to shirk responsibility, liability and accountability.
Was the excuse example a little far-fetched? Maybe but you and I have undoubtedly heard some doosies and were likely amazed the person telling them considered them to be the slightest bit believable.
Just one of the excuses used above could have sufficed had it been real but those who make excuses tend to overdo it in an attempt to convince.
I always suggest trusting your gut feelings if you are unsure if someone is telling you a reason or tall tale excuse. Your gut feelings will ALWAYS lead you the right way.
Let's define excuse and define reason so the distinction is clear and puts our mind to rest when we need to share a situation and are still in integrity with agreement.
Definition of Excuse:
An excuse intended to lessen or eliminate liability, accountability, or responsibility.
Definition of Reason:
A reason is an explanation given to an event or series of events.
This should assist you in being clear when you speak as well as add clarity to your understanding of what others are telling whether a reason or excuse.
I'd love to hear your thoughts and ideas about this topic. Please leave me a comment.