Are you a woman over 40 who feels overwhelm, depression, stress or anxiety regularly? You're not alone and you probably know it. There is an epidemic of depression, anxiety and panic attacks among women. The good news, YOU get to choose whether you want to be part of that epidemic or not.
If you want to be part of the epidemic, you will be directed to therapy, drugs, exercise (I'm a HUGE fan of exercise) and possibly surgery for the symptoms of the illnesses stress causes.
If you don't want to be part of the epidemic, you're in the right place!
Don't beat yourself up because you only learned one way to do things. Learn a new way of living life!
If you have yet to say, "NO," to overwhelm and get on with the life you deserve (and you deserve MUCH more than you've been programmed to believe), and are a woman who wants to thrive in your job or career and are passionate about: satisfying relationships, world travel if and when you choose and peace of mind that the world can work beautifully, I'm glad you're here. Being right here, right now may change your life completely.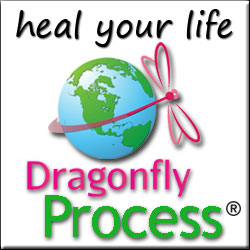 This is not a teenager's brainless vision as one, now banned from my page, Facebook visitor wrote.
This is the first step in learning how to live the life you want… and, yes, you CAN have much more of what you want than you've been told. It doesn't have as much to do with asking for it as it does believing that you deserve it. And THAT is where I come in!
I have developed an awakening process that guides you to create and release what is necessary in a safe, fast, effective way.
The Dragonfly Process isn't for everyone. There are many women who will choose not to take this step, for a variety of reasons and that's okay. There are plenty of great lessons and tips here at Positive Women Blog.com to help all women. 
You don't get what you ask for, as some say, you get what you believe you deserve. You've seen the scenario of someone asking and receiving and then having the prize of health, money or relationship stripped from them shortly after or something else taking them down, right?
They asked. They received. The didn't truly believe they deserved the joy that would come from keeping it and so it was taken away or something else happened… the other shoe dropped.
I have news for you, there doesn't have to be another shoe.
We are programmed to do everything without being given more hours in the day, to compare ourselves to others without a booster shot of self-esteem and directed to talk it out or take drugs if our lives don't work with this programming in place. Question: why did we learn the rules to an UNwinnable game? Whose idea WAS that and why did we follow their instructions?
The truth is, you don't have to do everything. If you want to do everything, you certainly don't have to do it all at the same time.
"Balance means allowing imbalance without beating yourself up over it." ~ Kelly Rudolph
Comparing ourselves to others has never been a winnable game so why set yourself up for failure?
Stress is the fear and anger about what your future looks like from here.  I know, we've all been taught not to be angry and to go with the flow. How's that been working for ya? I invite you to take a good look at your options. After all, this is your life, not the life of all of those programmers we all listened to over the years.
Wouldn't it be great to see your bright future and jump out of bed each morning to greet it? I can show you how!
Be sure to register free for the Positive Women Rock Email Community and get on the path to the life you deserve. If you don't think you deserve more than you already have, listen up!
You are the first to see the new programs available that will rock your world if you're ready to see that ideal future of yours. If you're not ready, take your time and enjoy the weekly tips that will assist you to be the best you you can be! If you think wanting more and deserving is for the greedy, I wish you the very best on your journey.
Say NO to overwhelm, depression, stress, anxiety, doing it all, comparing yourself to others, drug therapy and stressing over your future.