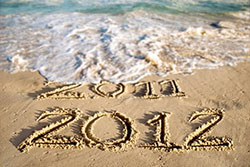 New Year's Resolutions are not the key to a Happy New Year. Getting in healthy habits is the key and it takes 25-30 days of consistently doing the same thing to make it a habit.
Why are New Year's Resolutions a waste of your time? TALK IS CHEAP!
New Year's Resolutions are one of the most overrated excuses for avoiding responsibility that I know of. Your intentions followed by your consistent action in the right direction are what move you ahead to have a truly Happy New Year.
"Try makes you doubt – Practice makes you better" ~ Kelly Rudolph
This saying is a great example of the difference between resolutions and intentions with consistent action.
Resolutions are perceived as temporary and ineffective. The Positive way to make your New Year GREAT is by focusing your attention, for a limited amount of time each day, to create your new healthy habit.
Example of Resolution: "I will try to be healthier and work out more this year." (vague, used the "t-word," ugh!)

Example of Intention with consistent action in the right direction: "I will invest 20 minutes per day in deep breathing, stretching and strengthening my muscles." And then to it. (strong, direct, clear)
In the spirit of wishing YOU the best year of your life, Click Here for my favorite tradition, which is a Year-End Review & New Year Intentions webinar and playsheet.
It will ask some questions you may not have asked yourself in a while (or maybe EVER) and I look forward to you having the Key To A Happy New Year! 😉
What is one of your most important intentions that you will support with consistent action in the right direction in 2012? Leave a comment…