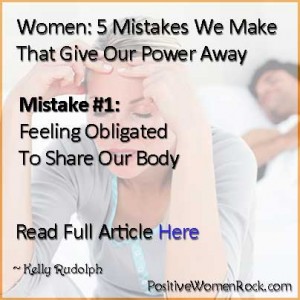 As women, we know that men we date or get into relationships with will expect to have access to our body. When we love someone who treats us with respect and feel that we want to share our body with them we can feel strong, and supported. However, more often than not, we share this precious gift for the wrong reasons and give our power away.
Inner power is what fuels us, as women, to create great relationships, families, careers and mental, emotional and physical health. Without it, we grasp for others to deliver what we have had inside all along but were unable to find.
3 Reasons We Feel Obligated To Share Our Body:
The guy deserves it because he took us out
If we don't, he'll find someone else who will
To pacify him in an attempt to avoid his anger, drama or withholding of affection
There may be various other reasons but these three are very common.
Solution: Realize that your body is a gift that was given to YOU. When you share it, you are giving a precious gift to another person. NO ONE can ever do anything to deserve or be entitled to the sharing of this precious gift.
As positive women, we want to know that a man is with us because he cares about us, about our mind; our character; our spirit and our inner beauty. This is when we feel comfortable sharing our gift with him and when it increases our strength, confidence and overall self-esteem.
A Warning: Sharing our body just because we want physical fun makes recognizing the true value of our gift later (in order to develop our true inner power and become positive women) much more difficult. Furthermore, sharing our precious gift in this way is what insecure, needy women do to get attention and calls for us to investigate the trigger for this inner need, which has nothing to do with our physical body.
Remember: When you, as a woman, give the gift of sharing your body at any time for any purpose other than to enjoy it with someone you truly WANT to share it with, you are giving up the greatest gift YOU were ever given! Women are emotional creatures so know that when you give this precious gift, you are also entrusting the other person with your emotional safety and a look into your soul.
Protect your confidence, emotions and inner power by protecting the precious gift of your body.
Do you see this challenge occurring in your life and the lives of your female friends? Please leave me a comment.