If you know women who talk BIG but lack action, then you understand the statement, "Positive Women Are DOers, Not TALKers."
Here's a recent example – an illustration of my point:
I hear people talking about losing weight, what not to eat (the NOT word makes them crave it more), liposuction, diets, diet pills, tummy-tucks, brutal workout videos, sweating it up at the gym and not having time to go at lunchtime because they'll have to shower and do their hair and makeup AGAIN. I totally understand how media has made these hot topics "trend" in our society by showing pictures of stick-thin, gorgeous models (who are really 15 yrs old) on magazine covers.
So, although many women

say

they are looking for the solution, most are just TALKers and not DOers.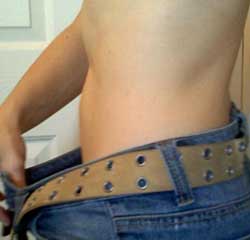 Here's why I think that:
In the midst of conversations about health and diets, I posted (on Facebook, for thousands of people to see and share) the link to my story about how my favorite workout has kept me slim and healthy since the year 2000 (that's over 12 years at this writing!). I told how it takes only 15-17 minutes per day, is fun, simple, effective and improved everything about my health because it has to do with using the power of oxygen to my advantage.
My results: NOT ONE COMMENT,

NOT ONE

!
My posts ALWAYS get comments and most turn into powerful conversations, but not this one; not this one about a fun, simple, effective workout you can do ANYWHERE (I've done it on a sailboat), without sweating; the workout that I did to lose 18 lbs and 23 inches in 6 weeks; the workout my friend, Kirsten, did to lose 30 lbs and 34 inches in 10 months.
Now, I ask you… are the people who complain but don't click or comment on a solution to their problem TALKers or DOers? Are TALKers positive women? NO.
Positive Women Are DOers, Not TALKers – No one can help the TALKers until they help themselves into being DOers.
If you are a Positive Woman DOer or are heading in that direction, tell me in a comment. I'm happy to have you with me!
If you are a DOer, you will undoubtedly want the link to the workout and testimonials. Here it is: Kelly's 15 Minute Workout