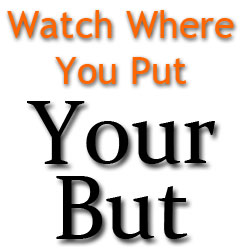 Positive women know that when they speak, type or think, the word "but" negates everything that came before it.
Examples:
Statement: "You look great but your hair looks dry and brittle."
Meaning: "You don't look good so I'm wrapping the criticism in a compliment so you'll still buy me lunch."
Statement: "She's really pretty but she could use some teeth-whitening."
Meaning: "I'm kind of jealous so I'm picking her apart."
Statement: "The spaghetti was okay but I would have made the sauce a lot thicker."
Meaning: "Spaghetti… not that good… I can do better."
Statement: "I know you two will be a great couple but you should consider dating other men."
Meaning: "I don't believe you two can make it work. Save yourself while there's still time!"
Statement: "The movie was great but it could have been shorter and had more action."
Meaning: "I hated the movie and I was bored to tears!"
Positive women share what's on their mind in an authentic, compassionate way. There is no need to "read between the lines" when a positive woman speaks because there is nothing between them.
If there is something between the lines when you speak or write, take a closer look to see what lies beneath your message. If you don't care where you put your "but," you're bound to put it in the wrong place and be inauthentic, delivering back-handed compliments and mixed signals. You become one of the women who teach men they have to read between the lines to know what we're really saying!
Leave me a comment and let me know if you are going to be more conscious of where you put YOUR but…