We have been programmed to win or lose but Win Or Learn is a lot more fun and the adjustment in perspective positively impacts your entire life!
I've never liked losing, have you? Would you rather Win Or Learn than win or lose? Me too, let's do it!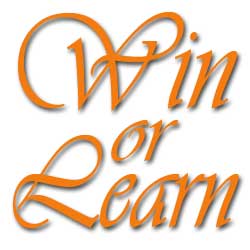 We have been programmed to "work" at everything, even things like personal relationships that shouldn't have anything to do with work. Now, let's take a look at how to put "losing" in that same trash can as the word "work" because this negative language will prevent us from being as successful as we can be.
Winning isn't everything but winning or learning certainly is!
Success depends on how you respond to failure. Failure just means you didn't reach the milestone you were reaching for. However, I have never heard of someone who didn't learn SOMEthing from what happened in their life and if they say they didn't, they are not paying attention!
Win or learn is the perfect way to reframe whatever it is you want to do. It's a win-win situation and will always move you toward knowing yourself better and winning your game on your own terms!
What project will you use the Win or Learn method with next? Leave me a comment…