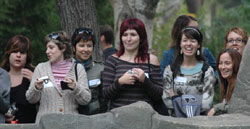 Positive women love to have female friends but we also need a detailed list of what we're looking for just like we do when we're looking for an ideal significant other.
Drama queens need not apply and whiny victims can keep on walking because what positive women need for friends are other positive women!
Negative women drag us down even when we do our best to "help" them to be happier or more positive. YOU need healthy friends and I dare say you probably need to delete some of your current ones for reasons you know whether you acknowledge them or not.
Would YOU pass your own female friend test?
In order to be a friend to a positive woman, you need to be one already. Otherwise, you will drag them down if you attract them into a friendship at all.
NOTE: Many positive women have evolved from "victim" or "drama queen," having done a lot of work on themselves. But just like looking for a significant other, we don't need another "project." We need a good, intelligent, supportive, friend who we can be intelligent, supportive and good to as well!
Here are some characteristics I have on my female friends list:
Understand anger, frustration and pain must be processed instead of glossed over
The ability and willingness to call me on my stuff (which helps me grow)
Takes responsibility for her life instead of blaming and complaining
Lives in daily gratitude
Good sense of humor
Accountable / Dependable (this comes with taking responsibility for her life)
Realizes an effective pity party is only 20 minutes in length
Forgives herself and learns lessons from each mistake
Takes care of herself – mentally, emotionally, physically and spiritually
Healthy self-esteem and personal boundaries
Trusts her gut feelings (intuition)
I know that women are powerful and can create their ideal life and become who they want to become but I also know not all women believe that and even fewer act on it. What I do is assist women to see themselves the way they really are and clarify the steps to become who they can and want to be.
Leave me a comment and let me know your thoughts on this topic. I know it can be controversial. I ask you, "Are we really growing forward if we keep going back to where we came from?"
Grow forward with me,